Easily add a stroke to your headings and other typography with thickness and color picker options by using the Text Stoke feature.
Usage #
From any supported widget, navigate to the Style tab. Click on the pencil icon beside Title > Text Stroke. You may reset this option at any time by clicking the reverse icon. Text stroke is currently supported in the following widgets: Headings, Icon Box, Tabs, Accordion, and Text Path.
Note: Text Stroke will be available for the following Pro widgets in upcoming Crazy Elements Pro releases: Posts, Animated Headline, Price List, Price Table, Flip Box etc.
Controls #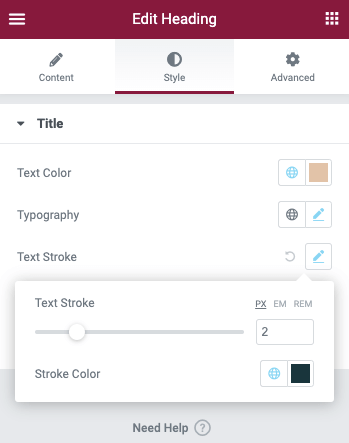 Text Stroke: Use the slider or manually enter a value for the thickness of the stroke in PX, EM, or REM
Stroke Color: Use the global color options or color picker tool to assign a color to your stroke.