Sometimes a question is found: How to Change Logo in Prestashop and why Prestashop logo is not transparent!! Before going deep dive into the topic, let's know about the Prestashop logo. A logo is a symbol that is made by the image, text which identify the business.
The logo of the website is small which is represent the brand. The logo should always be placed on the header or footer of the website that is visible to everyone from every page. Each brand should have its own logo which must be unique and that will represent its store. So the logo is must be needed for the website. In this article, you will learn how to change the logo on PrestaShop.
How to Change Logo in PrestaShop
You should design your own logo based on your brand. You can use PrestaShop logo png format. Image format will be like: .gif, .jpg, .png. Image recommended size for the default theme: height 40px and width 200px. To add or you would like to know how to change the Logo in Prestashop, follow the following process:
Login to the back office.
Go to Improve section, then Design > Theme & Logo
Select Header logo > Browse
Then upload the logo from your local hard disk.
Change logo in Prestashop:
There are three tabs where you can edit the logo and favicon or change the logo in PrestaShop.

Header logo – This will appear on all the pages of the stores.
Mail Logo / Invoice Logo – It will appear shop's email and notification and invoice.
Favicon: This is the small icon that appears top of the web browser's address bar and on the browser's tabs.
How to display the PrestaShop logo in transparent
I have prepared a prestashop logo in transparent, but when i upload this, it is not showing the transparent. How can I solve this?
If this kind of issue happens to you then this section will fix your issue. You also can add the Prestashop logo in png format by following this section. To show the Prestashop logo transparent, you have to follow the following procedure:
Login to your back office.
Go to Improve > Design > Image Settings.
Go to IMAGES GENERATION OPTIONS > Image format > Select checkbox: Use PNG only if the base image is in PNG format.
Click Save.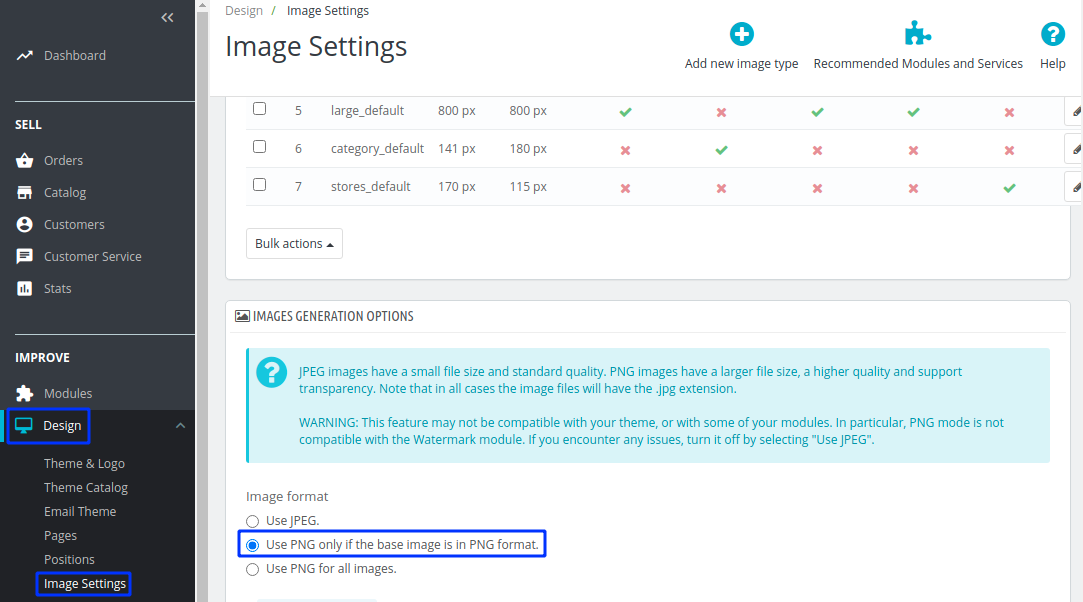 Now you have to upload the transparent image from:
Improve section, Design > Theme & Logo
Select Header logo > Browse
Then upload the transparent logo from your local storage.
Now clear the cache and check the live site. This is all about the How to Change Logo in Prestashop / Prestashop logo in png format. I
f you feel any issues to apply the above process, feel free to explore our PrestaShop Development Services.