If you have a Prestashop store and you want to customize the design in your own style then you can do that by Page builder for Prestashop. In the Prestashop market, you will get many Page builders for Prestashop, but to choose the best Prestashop page builder is very important. In this article, we will discuss the top Prestashop Page builder / Prestashop theme builder for free.
Page Builder for Prestashop
Why do you need a Page builder for Prestashop module?
In Prestashop, your store design depends on your theme. Most of the premium/free themes offer features for customization, but it's hard to customize the site for normal users who don't have the coding skill. For non-technical people, the Prestashop drag and drop page builder module comes in handy.
By Prestashop page builder / Prestashop theme builder plugin, you easily can add any type of content, block modules, widget to a page using a ready-made drag and drop page builder. The important thing is you don't need the coding skill to design the page with the Prestashop page builder.
So page builder is only for beginners? Not really. Page builders also help the developer with the custom design by drag and drop very fast.
We are going to focus on the following things to pick the top Prestashop drag and drop page builder: 
Interface: How much user-friendly is the interface and how does it work.
Included widgets/templates: Is your required option available or not.
Styling: How we can style the elements on our page.
Unique features: Is the page builder has unique features.
Crazy Elements – Prestashop Page Builder
Crazy Elements is the free page builder for Prestashop that lets you create amazing web pages using the drag and drop builder. There you will get many more widgets, modules, products layout, and so on. You easily can create the page by drag and drop in real-time editing. You don't need the coding knowledge for creating the page by this page builder. In our opinion, it is by far the best Prestashop page builder in the market with speed and ease to use.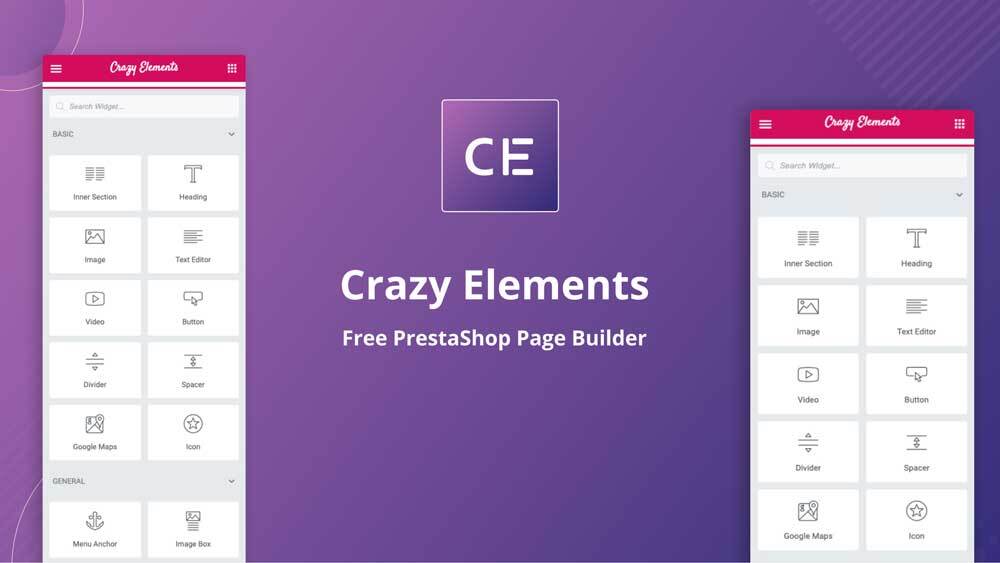 Features:
Basic module widget.
Live preview of the design. Look exactly like your visitor see.
List of elements such as basic, general, Prestashop module, Prestashop product widget.
Here is a look at how you can drag and drop the widget on your page.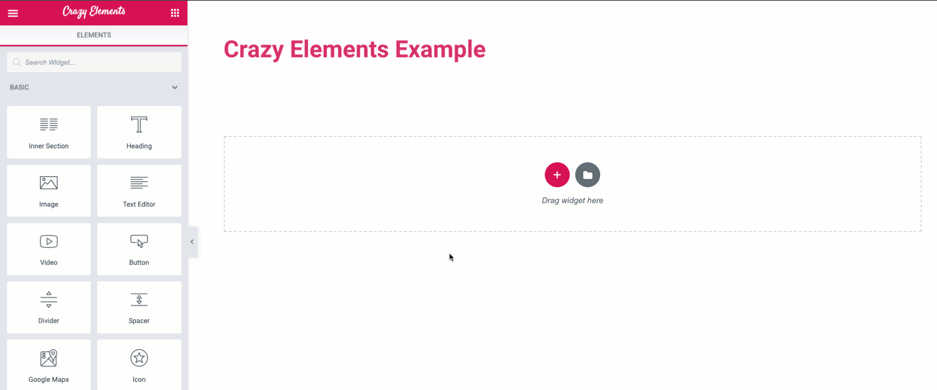 With the pro version of crazy elements, you will get the pro features with the same interface as your theme and popups. You also get dedicated features to help you to do that.
What will you get in the Free version: 
You will get the following widget in the free version of Crazy Elements and you also can use the core Prestashop widget.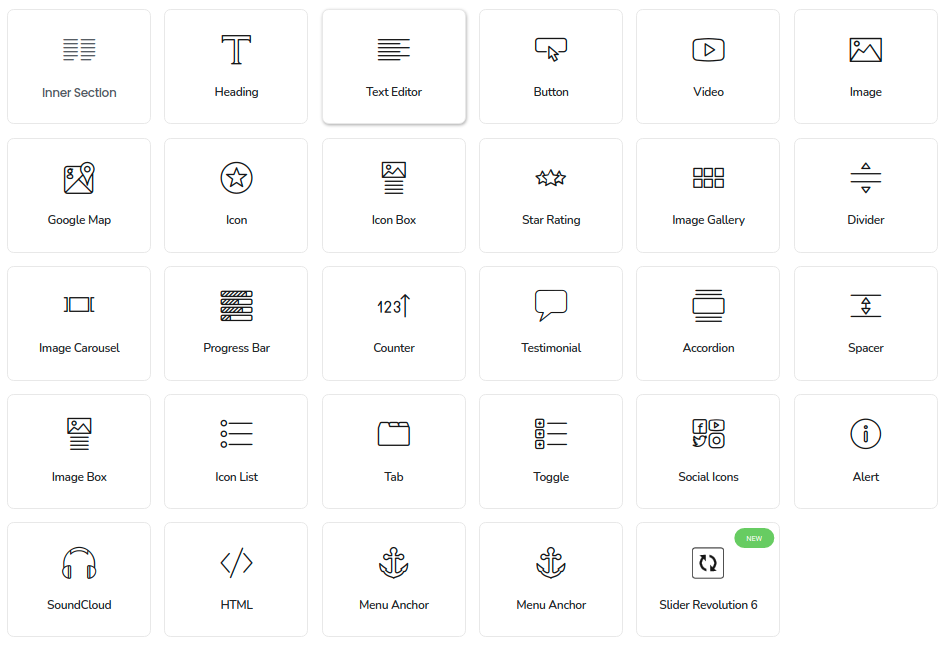 For using the pro features, you have to buy this module. You will get the following pro widget that will help to create beautiful designs.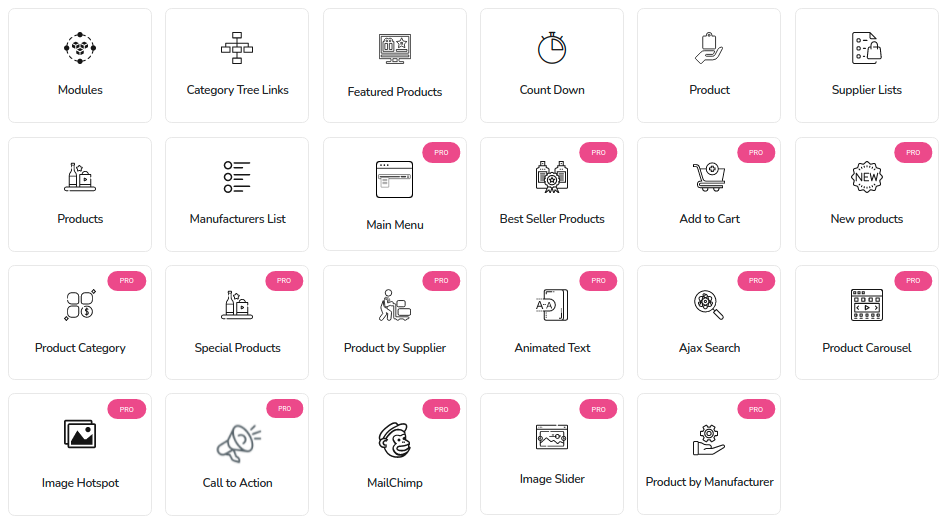 Download: Crazy Elements-Prestashop page builder
Apollo Page Builder
This is another Prestashop theme builder which offers to create the design of the Prestashop store. It shows the hook position of widgets and modules that help users easily to manage. It has free and pro versions. The free version has a limited widget. Users are able to edit their Prestashop store by Apollo page builder. It offers 20+ available widgets and 50+ Prestashop modules. It allows the user to add a blog section, image section, google Maps section, accordion, and so on.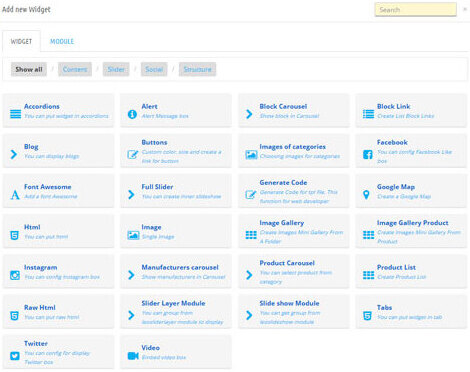 You can visually preview the on-page. It supports responsive layout, multiple headers, multiple footers, product list builder, multi-language translate, import-export data,  and so on.
The big advantage of this page builder is the feature that you can add shortcodes to any position on each different page on their website.
Download Link: https://apollotheme.com/products/ap-pagebuilder-prestashop-module
Writer's Opinion
According to the interface, availability of widget, styling, and unique features, we recommend you to use Crazy Element – Page builder for Prestashop. This page builder is very lite to use, user-friendly, and live drag and drop changing preview and so on. If you go for the pro version, you will get the complete features of this page builder for Prestashop.