In the Prestashop community, many people ask the question that how to find my Prestashop Admin Login URL panel?
After finishing the installation of the Prestashop manually or via the Softaculous installer tool, you are ready to log in to your site. You are now able to access the admin area which is called the back office. The back office is not accessible for the customer. Your customer only can access the front office.

If you are a beginner then it won't be easy for you to find the Prestashop Admin login URL panel. In this tutorial, I will show you a simple trick that you can get URLs quickly and easily.
Watch Now: How to Find and Change the Admin URL in PrestaShop 
How to get the Prestashop Admin Login URL panel?
After installing the Prestashop, the name of the admin directory automatically will be changed due to security reasons. So the admin directory file name format is the old name + a random number or string-like admin23ta45.
So if you visit like https://your-site/admin then you will get a 404 error message.
Where can I find the admin directory file?
Log in to your hosting > file manager > your root folder > you will find the login directory folder.
Now you can see the admin17…. folder which is your back office login folder.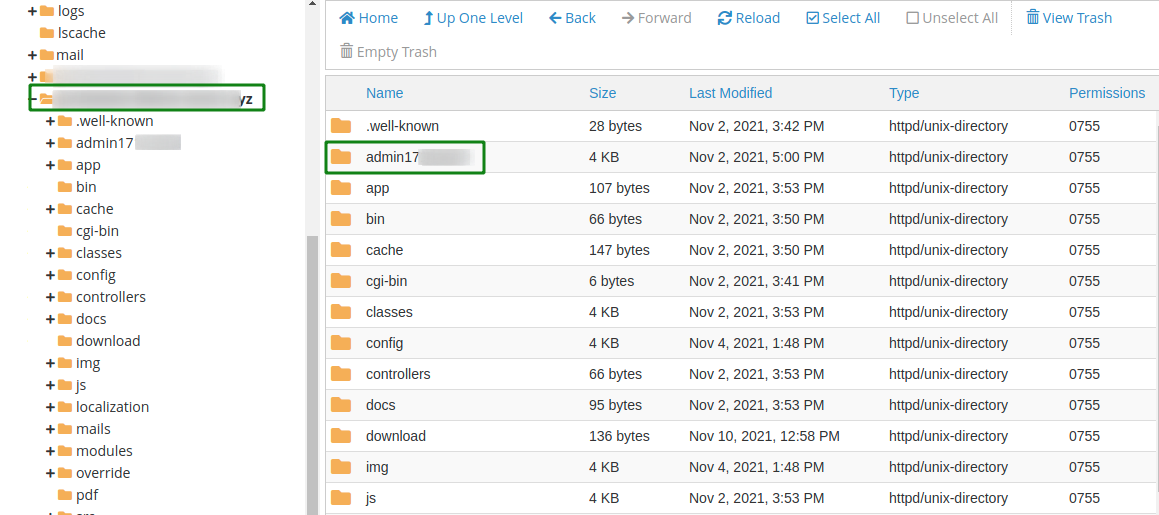 How can I change the Prestashop admin login url panel?
You can easily change the dashboard Prestashop admin login URL. Just log in to the hosting > file manager > your site root folder > right click of admin17.. folder and rename it.
Note: don't keep the folder name exactly admin, because Prestashop didn't permit it due to security reasons.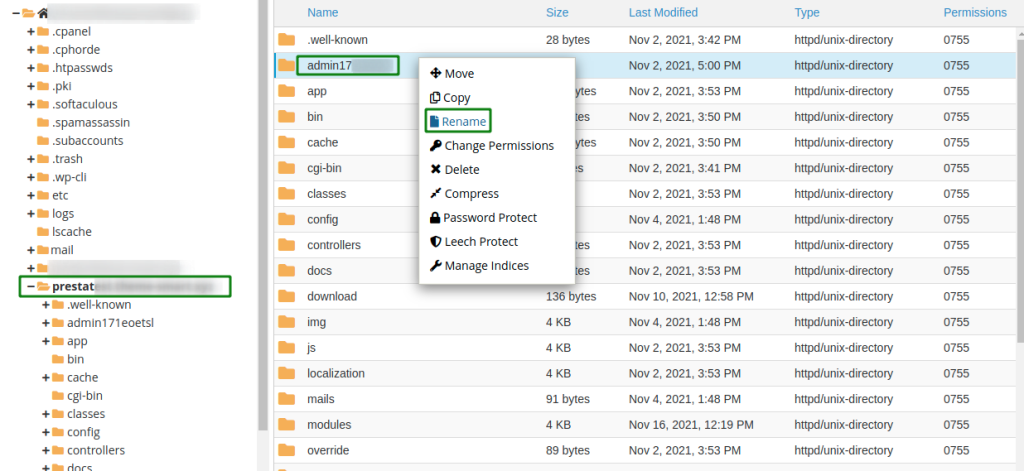 Now you can access the dashboard of Prestashop, if you don't like the current name of the Prestashop admin folder then you can change the name. Make sure don't put the admin name.
https://yoursite/renamed_admin_folder
Some of the questions from the Prestashop community.
When I install Prestashop by Quickinstall or Softaculous (Cpanel module) the admin panel URL is very weird "admin-1380902282"?
This is for the security reason that Prestashop uses. You can use the custom name for that folder by following the instructions given above.
I am facing the following issue:
I have changed the admin url from "admin3435"
The folder renamed successfully and my folder name is "admin"
I can successfully logged by using this: http://yoursite/admin and login was successful
After sometimes the admin url and changed automatically.
I again check the folder but the folder rename is changed to admin 5499.
So I tested this issue couple of times, how can I fix this?
This is also for security reasons, so you can't use the name admin as a directory folder name. You can use any other name but not admin.
Read more: