You may not know the term "push notifications", but you shouldn't worry about it, many people have no idea what they are about. That is why we invite you to discover what they are, their advantages, how they are used, and other information that could be very useful. Push notifications get their name from the "push marketing" strategy. They appear instantly to users who have agreed to receive them. They are similar to text messages, although personalized. They allow the user to receive the notification despite not being active in your eCommerce. They have become a new way to reach users, inform them about your offers and promotions, or ask them the reason why they abandoned their cart. They offer a high return on investment and facilitate user interaction.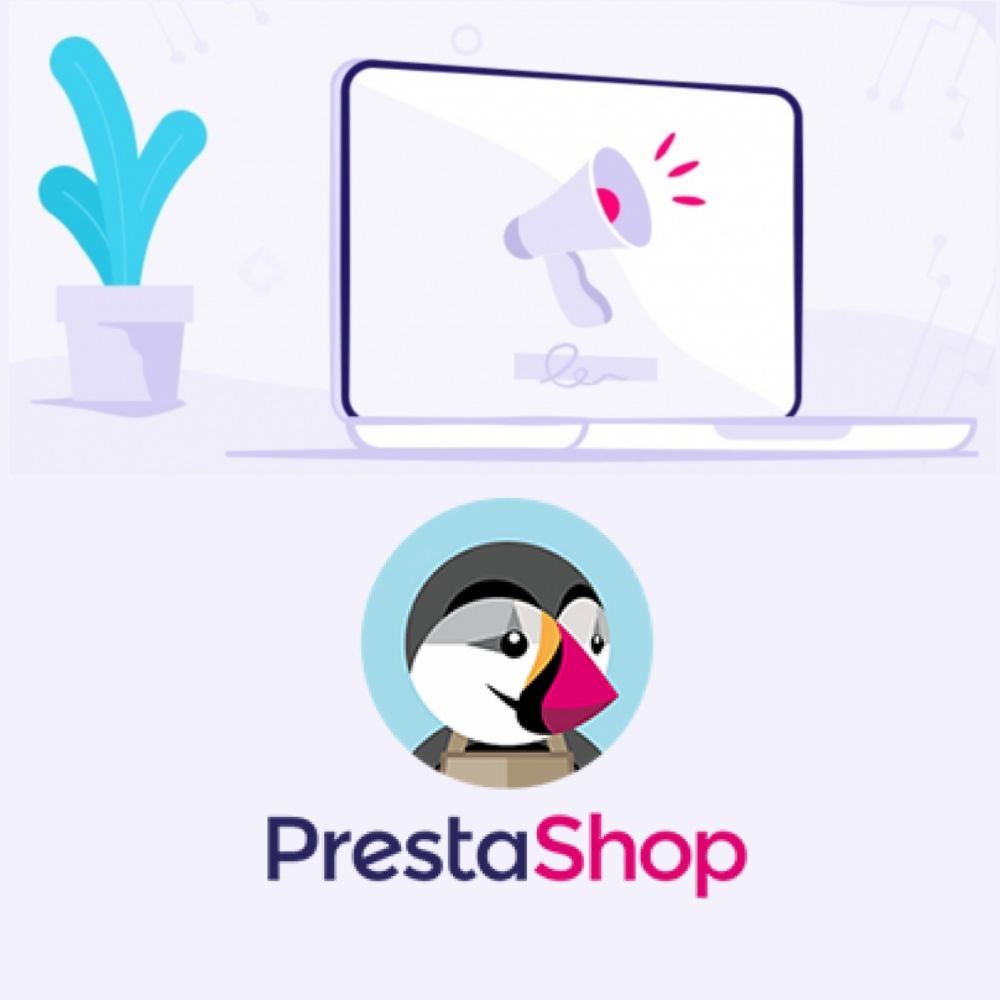 Advantages of push notifications in Prestashop
Among the advantages of push notifications we can mention the following:
User acceptance: the user decides whether or not to receive them.
Cost: They have no cost, they only require an internet connection.
Customizable: applications send personalized notifications that allow the user to recognize their origin.
Versatility: users can select the type of notifications they want to receive.
Harmless: they increase engagement and return on investment, without harming the user.
They help customer retention: they will help you complement your marketing strategy as they allow you to provide information to users about products or services that are relevant to them.
Instant information: they are the perfect way to get news, news, and information about your business to your users.
High open rates: by not accumulating and having the option to eliminate them, they are generally opened quickly.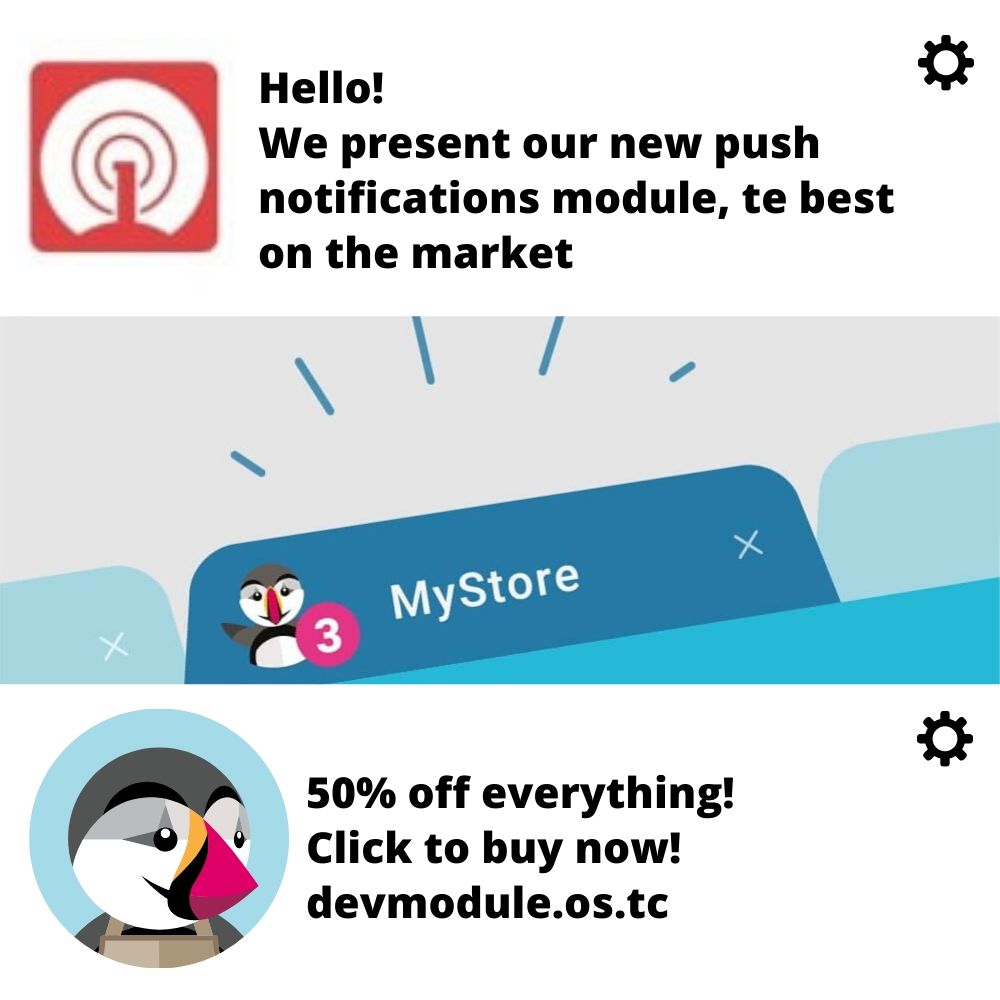 Push Notifications in Prestashop
Using push notifications in Prestashop is an excellent decision. It is the perfect tool to increase sales, retain customers, and establish communication with your customers in a personalized way. You can also use them to reduce the rate of abandoned shopping carts, inviting your customers to complete the process.
Among the most relevant advantages we can highlight the following:
Increase in quality web traffic: push notifications have an excellent opening rate since users do not need to use their email manager, it also generates segmented and qualified traffic for your online store. The user only needs to follow the link in the notification to enter the web.
Segmentation: when a user visits your online store, they are offered the acceptance of push notifications, which will make them a subscriber to your page. This will allow you to reach your customers easily and without having to fill out cumbersome forms with personal data.
Low cost: the notification system for Prestashop is much more affordable than developing an app for this purpose.
 Configuration: you will find some tools that will make configuring notifications a very simple task. One of them is "VWO Engage". This tool offers a free version that allows the subscription of up to 2,000 users. It also has a payment option that increases the possibilities. Another tool that has a high level of customization, allowing you to change the appearance of notifications is "360NRS".
How to use push notifications in my online store?
The level of usability of push notifications is very high, but it will depend on your goal. If you have a blog you can use them to inform users of the latest posts uploaded or send weather information. Push notifications are ideal to attract and retain your customers.
The versatility of shapes and formats, allows different notifications to be displayed depending on the status of the user's device, and banners, windows, or other methods may appear.
That is why it is essential to define a strategy and configure specific and segmented messages. Avoid abusing notifications as it can cause the user to disable them. You use them as reminders, but don't be overly pushy.
Remember that notifications must be clear and easy to read, trying to use colloquial language. Keep in mind when configuring notifications, the time they will be sent, avoiding the early morning hours. A good strategy is to consider the habits of your customers, possibly the best time to send notifications is early in the morning, before the start of work hours, or during lunch.
It is recommended that the notifications have a visual appeal, for this it resorts to emoticons, which will give some complicity with the users, giving the feeling that there is a person behind them and not a robot, which will increase their confidence.
Prestashop modules for push notifications
These elements can be easily integrated into your eCommerce. In this sense, it is recommended that you use some addons that will undoubtedly make a difference.
Notification module browser tab (Favicon): this module is ideal to reduce the number of abandoned carts in your online store since it adds a notification in the browser tab of your customers. Its installation is very simple and can be viewed next to the favicon of your page, indicating the number of products that the user has in their shopping cart. It is discreet and very effective, prompting users to make a purchase.
Web Browser Push Notifications module using OneSignal: can be used in all browsers and on any device. Use filters that allow segmentation based on Prestashop. This module will allow customers to stay informed in real-time, without having to resort to an email manager. It offers a good interaction from the store to the customer, achieving better dynamics.
Web Push Notifications module: it is the ideal module for promotions or to notify about a new collection of products. You will be able to personalize the messages to the browser and increase the user subscription rate, without requiring personal data. The notifications of this module are not blocked by the adblockers.
It is recommended that you use push notifications in the browser to reduce the number of abandoned carts. It is also the ideal way to remind your visitors about updating your prices or about the conditions of the products they have already visited, which can increase the possibilities of purchase.