If you want to change or edit the PrestaShop footer link and want to customize them then this article is for you.
When you launch the PrestaShop site, you will see the PrestaShop footer like this:

In this article, we will see how to edit the PrestaShop footer link.
Edit footer links on PrestaShop
You can modify the PrestaShop footer links very easily and you can add the new block in the footer. To edit the footer, follow the following steps:

Log in to the admin panel / back office.
Go to the Improve > Design > Link List
In the link list, you can see the displayFooter. In this hook, you can edit the footer list. You also can drag the list to show which list shows the first.


If you want to add a new section/block just click on the New Block button. When you click the New Block Button, you will see the window like this: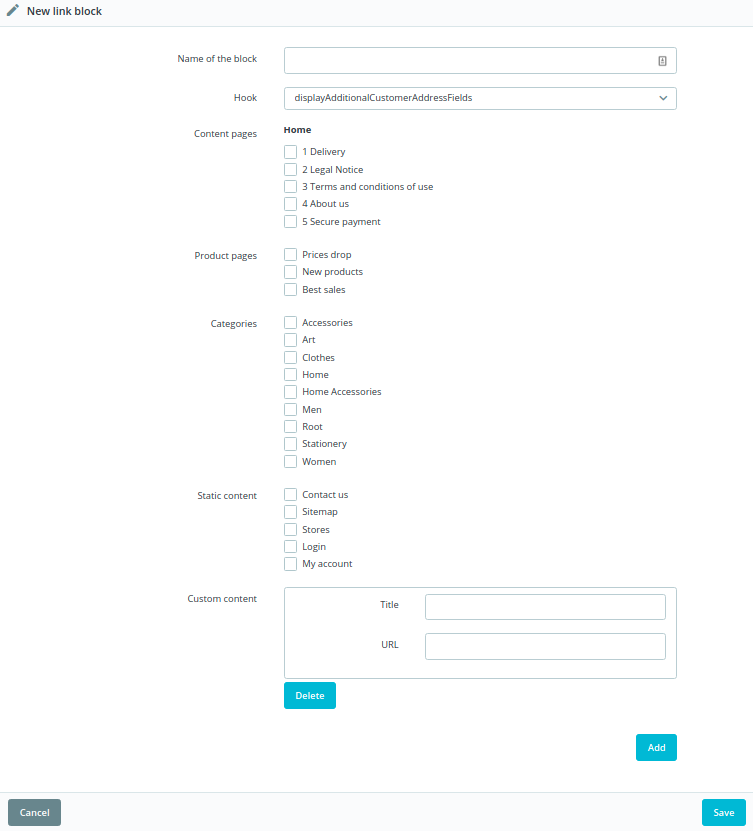 Name of the block: This field identifies the name of the block. You can use any name related to the block.
Hook: It shows the selected hook name which is "displayAdditionalCustomerAddressFields". This block will be added to this hook. You can change the hook from the dropdown and select the specific hook. For showing the footer link list, you have to set the displayFooter as a hook selection.
Content Pages: Home – Here you can get the list of content pages. So you can add these pages to your footer list.
Product Pages: You will get the product pages list here. You also can select multiple product pages.
Categories: You can add the categories by clicking the checkbox.
Static content: Here you will get the static content to add your footer link list.
Custom content: If you have any custom links then you can add the PrestaShop footer link. Just add the title and put the url in text field. Then click on add. If you want you can add/delete it from here.
At last, you can click the save button to save this list in the PrestaShop footer list.
Video: How to Edit Footer Copyright in PrestaShop | Prestashop Footer Copyright Edit
Read More:
How to Remove PrestaShop Footer Copyright | Change Footer Copyright