Backup is very important for any site. If you have any eCommerce store like PrestaShop then PrestaShop Full Website Backup is a must needed. A backup always provides the guarantee that your site can be completely restored from the problem or crashes. If your PrestaShop site gets harmed by a module or if the website is hacked then the backup will help you to restore your site.
What kind of file should you backup?
The following files need to backup
Core files.
Theme, Plugin, uploaded files.
Configuration files.
Database.
Other valuable files.
But there is nothing to be worry, we will complete the full PrestaShop website backup by following the simple process.

PrestaShop Full Website Backup
To take a PrestaShop full website backup, just follow the simple process:
Login to the server or cPanel.
Find Backup folder and click on it.

In Full backup section, click to the Download a full account backup

Now you can see the backup destination. Your backup will be generate and stored on the backup destination file. You can change it by dropdown.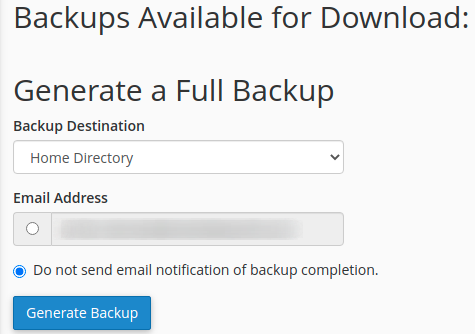 Email Address: When you click the generate backup button then it will generate the file. If you enable the checkbox for Email Address then you will be notified when the download file will be ready.
If you enable the Do not send email notification of backup completion then you will not get the notification when the backup file ready.
Click Generate Backup button to generate the backup.
When you click the generate backup button then your backup will start to create. It will take sometimes to create the full site backup.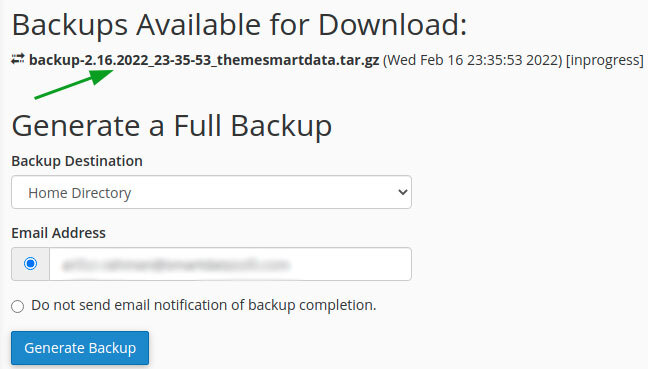 After sometimes, you can reload this page, then you can see that backup-2.16.2022 file is ready to download. When you click over that, then the downloading will be start.
PrestaShop file backup is done.
PrestaShop Database Backup
Now you have to back up the database on PrestaShop.
In the hosting server, just click on the backup. Then go to the scroll down, you will see the Download a MySQL Database Backup option.
Now just click over the database and then it will start the download.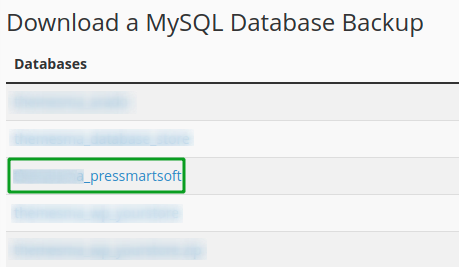 Delete the Backup file from the Server
When you generate the backup file, you will see that your hosting file size has been increased because our backup file is always stored in the File Manager. If you want to free your server then you have to delete the backup file. If your file is already configured to save on the home directory then you can follow the process to delete the file: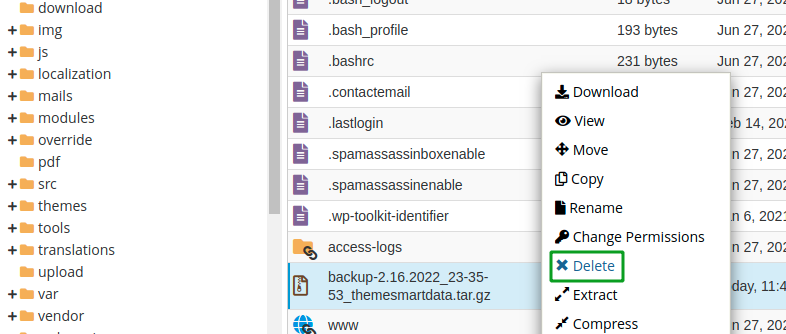 Go to file manager and right click over the backup file > Click Delete
Now click on the check box: Skip the trash and permanently delete the files, and click Delete.
So your file will completely delete and free the storage.
This is how you can take the PrestaShop Full Website Backup. If you feel any issues to apply the above process, feel free to explore our PrestaShop Development Services.
Read More:
How to Enable the Prestashop Debug Mode in PrestaShop 1.7