In this article, i will show you that how to configure the Prestashop Newsletter for Free. Before going to deep dive, lets know about the newsletter for Prestashop. The newsletter is an important way to contact current customers and business partners. Newsletter content important news, update, and information which is important to share with the clients. Huge newsletters are sent every day all over the world to keep customers updated about ongoing or upcoming promotions. To send the mail to your customer, you must need the customer mail which is only possible when you will configure the Newsletter for your Prestashop store.
Configure Prestashop Newsletter for Free
To configure the newsletter of your Prestashop store / configure the Prestashop Newsletter for Free, your visitor needs to fill out the field with their email so that they will receive the updates. So you have to know that how to configure the newsletter and use that tool for maintaining customer interest in your business.
In default, the Prestashop newsletter subscription box shows above the footer, but if you don't have this then you have to enable this block from Prestashop back office.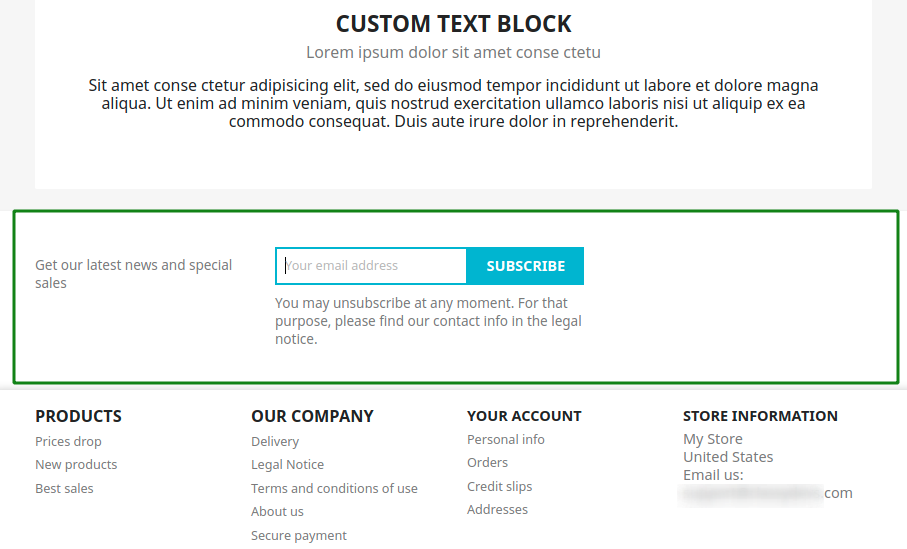 How to enable the Subscription block in Prestashop?
You easily can enable the subscription block in Prestashop with a couple of clicks. To do that, follow the procedure given below:
Login to the back office.
Improve section > Module > Module Manager.
In Module Manager > write newsletter on search text field and click search icon.
Newsletter Subscription option will be found under Promotions & Marketing section.
Click enable button to enable it.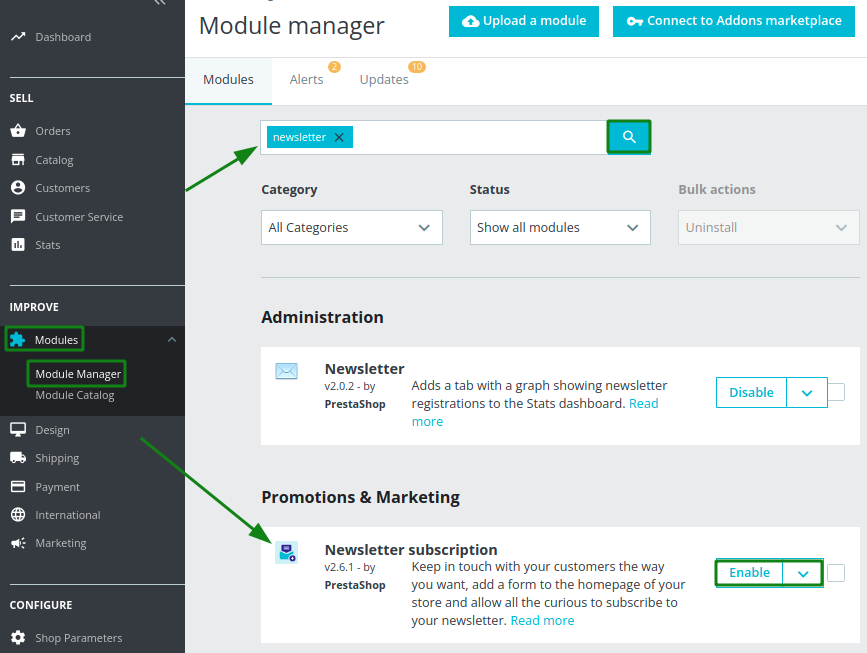 When you click on enable, you will see the newsletter subscription block above the footer section in your store.
How to configure the Prestashop Newsletter for Free by Module?
Now the module is enabled and the button text will be changed to "configure", we have to configure the module to achieve our goal.

Now click on the "configure" button and you will see the Prestashop Newsletter for Free configure window.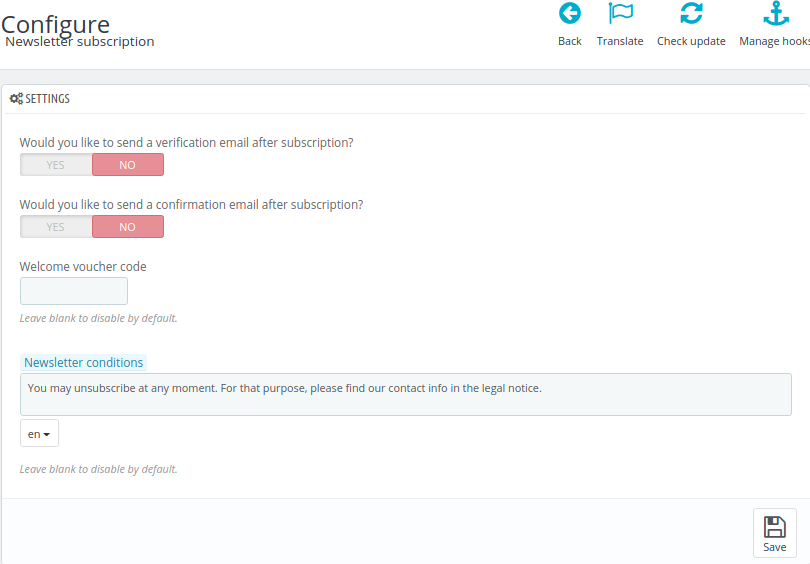 In the Settings option, you will get the following simple options.
Would you like to send a verification email after subscription? – You can switch enable to Yes or No. If you click Yes then your subscriber will get the verification mail with the link. They can verify the mail when they click on the link.
Would you like to send a confirmation email after subscription? – You easily can switch YES or NO button. If you click on Yes then you will get a confirmation email. So customer no need to verify the email address.
If you want to change the email templates then read this article:
How To Edit Prestashop Email Templates
Welcome voucher code – You can put the voucher code here that will be automatically sent to a customer in the welcome message.
Newsletter conditions – If you want, you can add condition here that will display as a text message after clicking the subscribe button.
Now we will find the other functionality of the module:

Search for address: You can search customer by their email address.

Newsletter Registration: You can view the all registerd customer under the Newsletter registration. You can find their details information such as: Gender, Firstname, Lastname, Email, Subscribed, ISO language, subscribed on.
Export Customer's Address: This is the useful option that will help you to export the customer email address using 3 filters.

Customer's country: You can choose the specific customer country or all country at a time.
Newsletter subscriber: You have four option here: i) All subscriber ii) Subscribers with account. iii) Subscribers without account. iv) Non-subscriber. You can export them by individual option wise.
Partner offers subscriber: You have three option here: i) All customers. ii) Partner offers accepted. iii) Partner offers not accepted. So you can export with this three option.
When you select the necessary options in the filters then you can click export.csv file button and save that file in your computer. This is how you can configure the newsletter subscription in prestashop 1.7.