Prestashop SMTP stands for Simple Mail Transfer Protocol for Prestashop that is a standard communication protocol for electronic mail transmission that is used to send, receive, and relay outgoing emails between sender and receivers. When a user sends an email, it will transfer by the internet from one server to another server using SMTP.
Prestashop email service maintains interaction between the customer and your online store. You can send mail for every action to changing the password for their profile or product orders etc.
In this article, I will show you the easiest way to set up your Prestashop SMTP settings.
Set up the Prestashop SMTP Settings
You can choose two ways to send mail:
By the PHP mail function.
SMTP mail server.
We will suggest you not to use a mail server on your hosting because it is very hard and will waste your time and it's hard to configure to avoid the spam filters.
You can configure the Gmail SMTP settings and you can send email from any script or program that you wish to. For Prestashop SMTP, you don't need any Prestashop Addons. You just only need a free Gmail account and then you need to focus on email templates and content.
Process of Prestashop SMTP Settings
Loging to the back office.
Click on Advanced Parameters
Click on E-mail tab.
Click on "Set my own SMTP parameters (for advanced users ONLY)".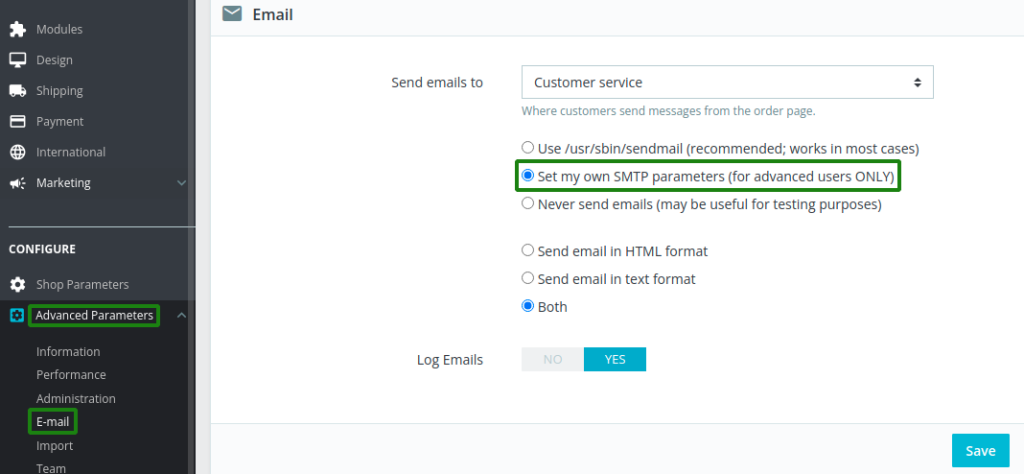 When you click on Set my own SMTP parameters (for advanced users ONLY) then you will get a form like below. You have to insert the information in the text field.
Mail domain name: You don't need to put any text if you don't know in this field for this option. Keep this field empty if you don't know.
SMTP server: Put your SMTP server here. Gmail smtp server is "smtp.gmail.com"
SMTP user : Keep the full email address in this text field.
SMTP password: Type the password of your same email account.
Encryption: To safe your mail, it is necessary to use encryption. Click dropdown and select SSL.
Port: The port number you should put 465/587 for gmail. Gmail Ports:
Port for SSL: 465
Port for TLS/STARTTLS: 587
If you want to store a copy of outgoing emails in your Gmail then log into your Gmail.
Click on the Forwarding/IMAP from Gmail: Now click on the gear icon of settings, then you will get a window given below.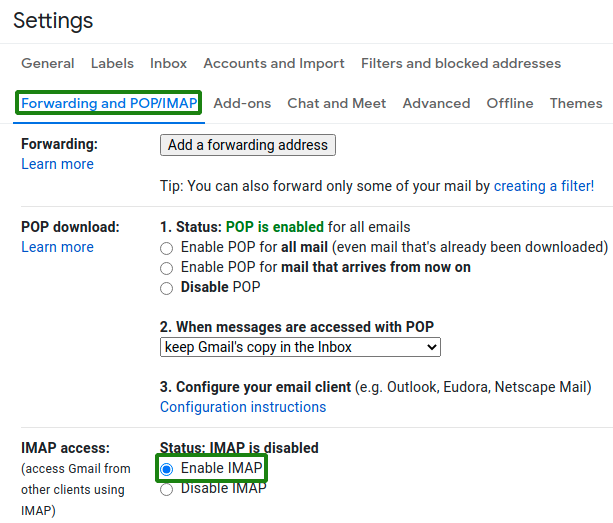 Click Forwarding and POP/IMAP from tabbar. Now enable the IMAP access so that send folder will work perfectly.
Now you need a gmail Less secure app access to sent mail via gmail. If you don't enable this then you will get an error like "
Error: Please check your configurationConnection could not be established with host smtp.gmail.com :stream_socket_client(): unable to connect to ssl://smtp.gmail.com:465 (Connection refused)
To enable the less secure then visit: https://myaccount.google.com/
Click on Security.
Go to bottom and select "Less secure app access".
Turn on the access.