Are you dreaming of having your own PrestaShop e-commerce stores? Of course, you do! Who doesn't? PrestaShop is the world's leading e-commerce solution of all time. Anyone will be pleased have an e-commerce platform under PrestaShop.
But is it that easy to make your dream into reality?
Many people reach PrestaShop to commence their online stores, but the situation does not favor them always. It takes a lot of effort and time to implement their sites properly in a professional way. The worst part is, if the websites they build do not fit the PrestaShop base architecture, people grow frustrated. The ultimate outcome is, they have to give up on their dreams.
Well, trust us your dreams won't remain unfulfilled anymore.

We're a group of professionals and a theme and plugin based company named SmartDataSoft brought you a couple of solution, following which you can easily design your PrestaShop e-commerce sites in a professional and in the right ways.
Here are those tools which you can utilize.
1. Visual Composer for PrestaShop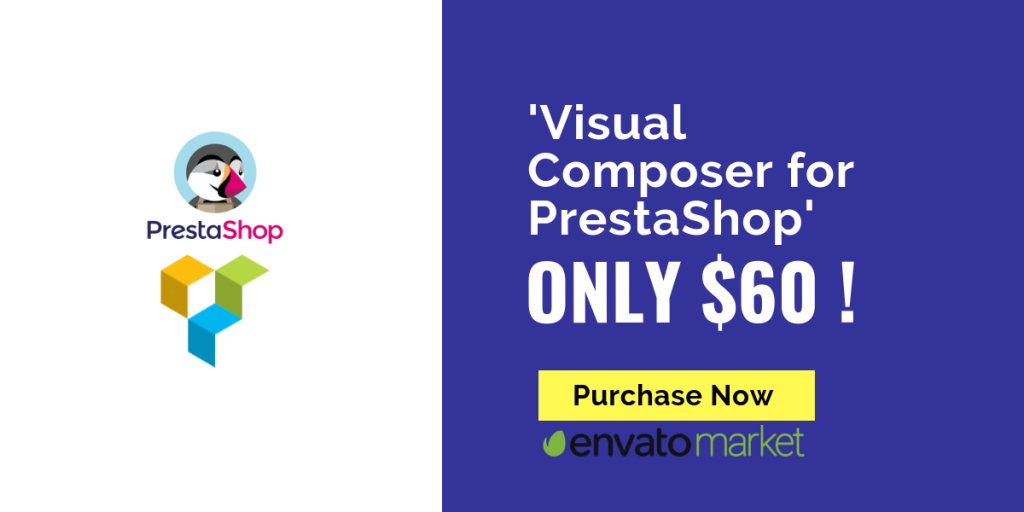 Visual Composer is the no.1 drag and drops page builder for WordPress is now available on PrestaShop. It allows us to create complex pages for our web designing. It is the best selling plugin of all time, designed by WPBakery for WordPress and also in PrestaShop CMS. Usually, it is troublesome to add the plugin to any e-commerce platform for PrestaShop but SmartDataSoft performed it pretty well. We'd beautifully made this wonderful plugin an integral part of PrestaShop. It is fully compatible with PrestaShop 1.6 and 1.7 versions and even no code required. If you visit CodeCanyon section of Envato market you would know,
It appears on the top of the page if you search as 'page builder for PrestaShop'. It has got 2400+ sales and 160+ ratings. Even the price is very reasonable as well, compared to the later one you see on the page. Visual Composer contains several awesome elements, using which you can create your websites beautifully and flexible. Let's have a look!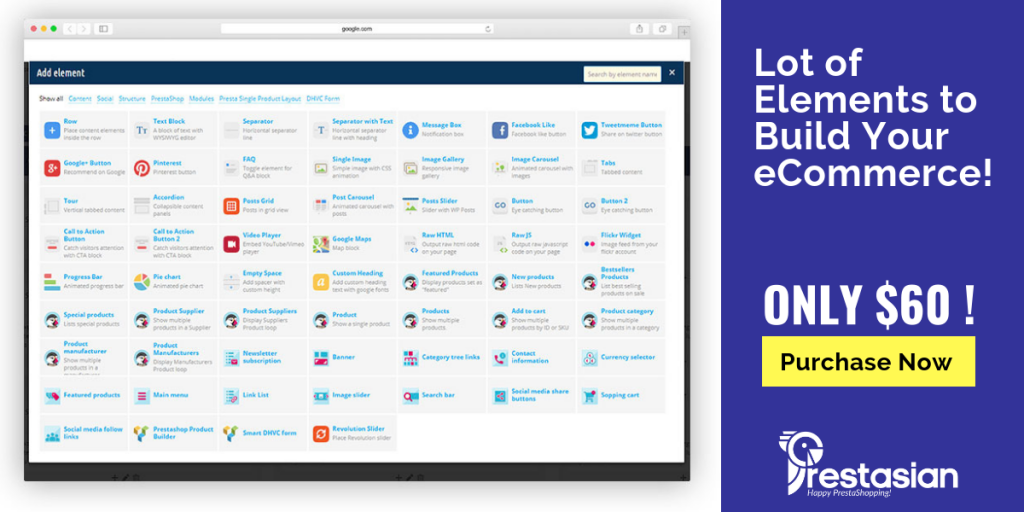 These are just a few elements, you can add your own elements if you wish.
2. Ultimate AddOns for PrestaShop Visual Composer
This plugin adds several premium elements in your Visual Composer on top of the built-in ones given by PrestaShop Visual Composer. Every single element in the package is crafted with utmost attention to details and a simple objective to provide you an ultimate experience. We'd put a lot of time and care to ensure that all the elements are flexible so that they will open limitless possibilities for you while maintaining simplicity at the core. 
So, it's time to extend your Visual Composer and add more power to it!
What Type of AddOn Elements Do You want?
Icons?
You can use this element to integrate a simple icon (font & image, both kinds) on your page and use it as you want. Or you can utilize Visual Composer grids and display a list of logos of your clients, partners, sponsors, etc.
Info Box?
Perhaps, the most popular trend right now, Info Boxes truly make your website stand out helping you highlight the important things you have on offer.
Info List? 
Traditional HTML lists are boring, aren't they? This elements simply re-imagines the lists. May you take an opportunity and utilize it? cool design to show some process or simply highlight your most popular/related products, services & features.
Flip Box?
This element combines the power of? Info Box? &? Call to Action? block altogether. On the front, it would look like a normal Info Box but as visitor hovers on the block, it flips with a cool CSS3 effect and shows a Call to Action section, provoking him to take a call.
Counter ?
Want to show your milestones, achievements and any other numeric statistics with animated numbers? This element will help!
Interactive Banner?
Many times, image banners come in handy as they are very convenient and obvious way to deliver your message precisely. This element will display those image blocks in a nicer & interactive way.
Modal Popup Box? 
This is one of the very useful elements that can go on any website. Create modal popup boxes and embed anything you wish inside the popup box through easy WYSIWYG editor.
Timeline? 
Display a timeline in a Facebook-style or simply showcase your features, processor highlights little creatively. We have taken special efforts with custom JavaScript & CSS codes to make it as perfect as possible.
Extended Google Maps? 
Visual Composer comes with Google Maps element by default. But our Extended Googles Maps element uses latest APIs and allows you to do more with it. Upload marker images, write custom HTML in map infobox and control everything that goes with a map. Let's enjoy!
Creative backgrounds do truly set the tone for your website. So we offer you easy tools that will help you utilize them quickly.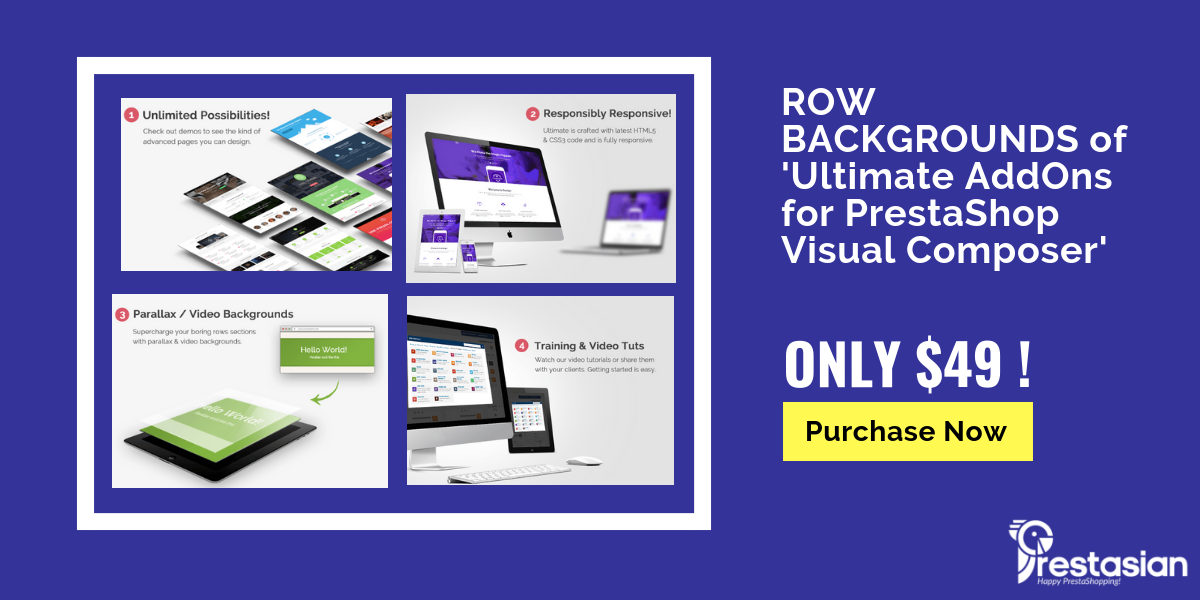 Fixed Image Background
– Keeps the image fixed at it?s position while the other content moves on the scroll.
Vertical & Horizontal Parallax
– The background moves at different speed & direction from your content on the scroll.
Hover Parallax
– The background moves creatively with cursor movement.
Video Background –
– Plays a video in the background. Supports hosted as well as YouTube videos.
Multilayer Hover Parallax –
– Design a real 3D parallax. Go ahead? impress your users
While we believe the above five elements will benefit your site immediately, these are not really all! We're already working on few more elements that we look forward including in this plugin as we complete them.
This is a PrestaShop form named 'Presta Form' for Visual Composer. This powerful form manager allows you to create and manage form very easily. Literally, within minutes you can build complex forms as Booking form or just a simple Contact form with drag and drop form element without touching a single line of code.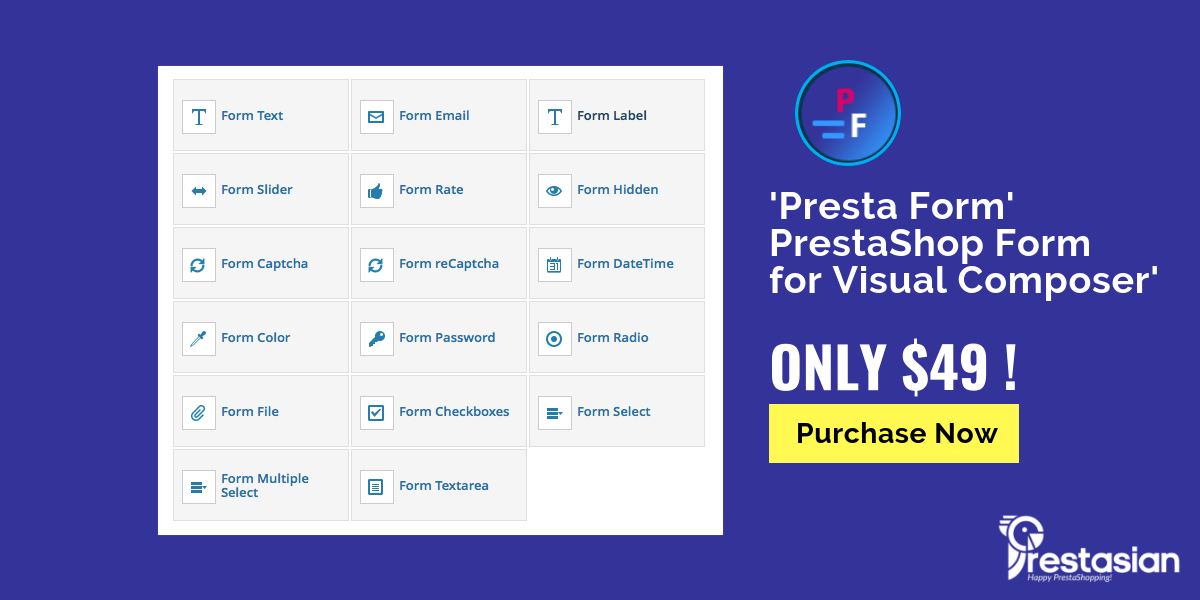 It's a form manager. PrestaSian has introduced this addon for Visual Composer separately. It's a very useful tool for creating and managing forms in PrestaShop on different pages. It allows you to create the complex-looking form for registration in a minute, No code even required. You can use different form element, depending on your user's demand. Just make your registration form as simple as possible, as we all know, the users won't like complex form, appears on their screen.
So, try to utilize this addon and increase more traffic. Using all these tools, you can design your PrestaShop e-commerce websites much easier and much quicker.
4. PrestaShop Product Page Builder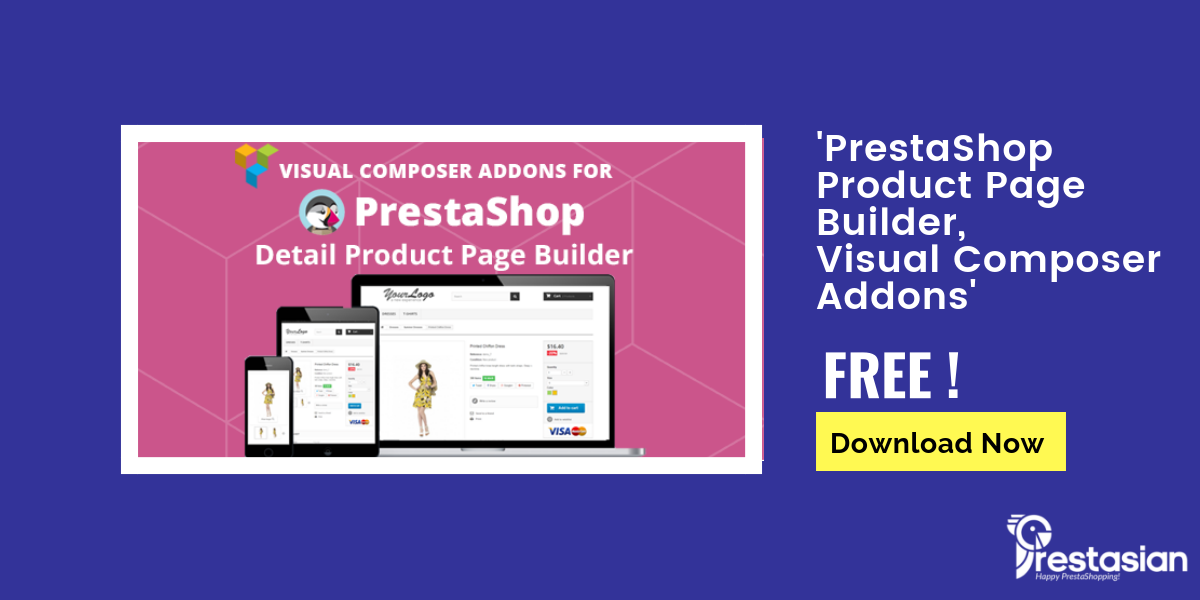 It's an add-on software for Visual Composer, which is going to enable you to create a single page product for PrestaShop. Building a single product page using PrestaShop format seems troublesome for many users because it requires coding knowledge somehow.
This addon can make your work much easier and with much more flexibility. You can use your creativity and add all features in just a single page. The elements you can add includes, single product price, single product attributes, single product add to cart and single product hook product action. These four elements are essential elements where you can add as many elements as you want. Your visitors will find it comfortable if they find all information regarding product available on a single page. Most importantly, you can arrange all of your product page content by Visual Composer Drag & Drop facilities. You don't have to worry about losing your modification when Prestashop theme file update.
Hard to believe? Take an eye-shot on our videos!
5. Slider Revolution for PrestaShop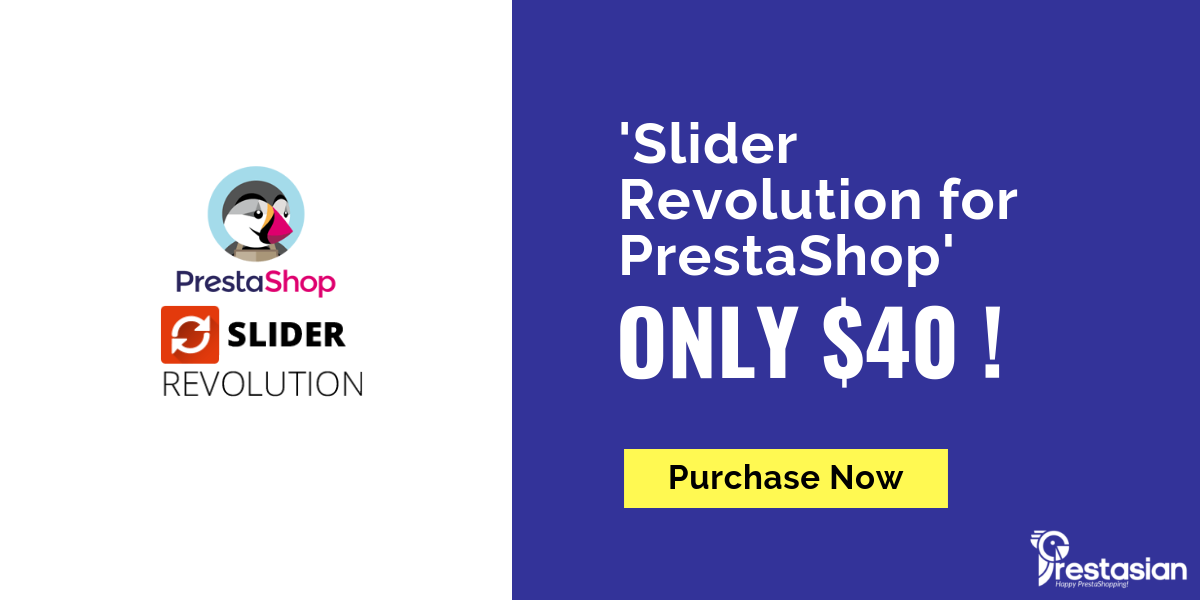 Slider revolution is basically used to design slideshows of your websites, It's an innovative way to make your websites look beautiful and sophisticated. It allows us to add new slides, duplicate the slides create templates, edit slides that we previously created or add multiple sliders under one slider. Additional features may include, we can add new layers, animate those layers, add additional text, style those texts or add images, The list is almost endless. Slider Revolution is mainly developed for WordPress by ThemePunch.
As Themepunch was unfamiliar with PrestaShop format, and SmartDataSoft has expert and dominated in the PrestaShop Market, this is why ThemePunch entrusted the job to SmartDataSoft to make Slider Revolution for PrestaShop version. As a result, the users of PrestaShop finally gets the easy solution to build and design awesome slides for their eCommerce website.